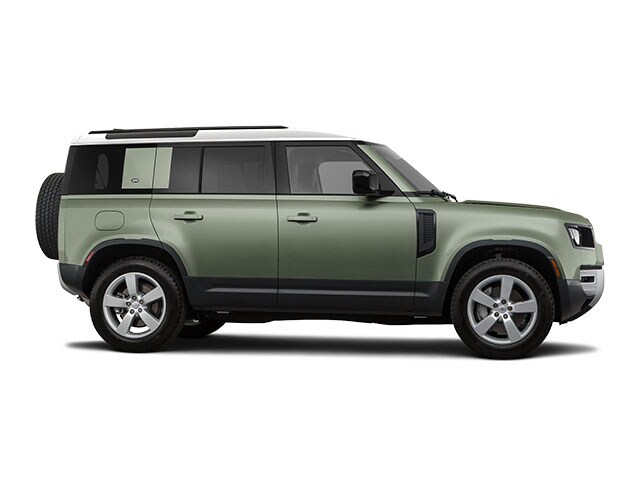 You don't want to miss this. The Land Rover Defender is now available with a V8 engine. That means you get more power, more off-road capability, and a more engaging drive with the 2022 release. Turns out it's Land Rover's toughest 4x4 out there and Land Rover Chicago is making it available to you.
The Power
The 2022 Defender thrills with 518 horsepower, and a supercharged 5.0-liter V8 engine. There's no doubt about it, the Defender can get up and go. So quickly, in fact, that it goes from 0-60 in 4.9 seconds. The eight-speed automatic transmission manages the high output of power, dispersing it throughout all four wheels. Whether you choose the two-door Defender 90 or the four-door Defender 110, you'll enjoy the same powerful engine. 
A number of changes were made to accommodate the higher level of power in the Defender V8 because safety is, and always will be, our top priority. The 2022 model incorporates stiffer bushings, larger anti-roll bars, and an updated all-wheel drive with electronic rear differential. 
The Looks
Along with the new V-8 engine comes sleek new paint color options: Carpathian Grey, Yulong White, and Santorini Black. Inside the Land Rover Defender, the polished look continues with dark upholstery and trim, and metal accents such as the chrome paddle shifters. Illuminated door sills, wireless charging and a 10-inch infotainment screen are also standard. If you're so inclined, an even larger 11.4-inch screen is available. 
Spring for the V-8 Carpathian Edition for even more exhilarating features. Painted exclusively in Carpathian Grey, it adds Narvik Black exterior touches to create a contrast like no other. The Satin Protective Film is a feature that both puts your mind at ease and prevents scratches and scuffs, keeping your Defender looking good-as-new. 
The Defender V-8 comes standard with 22-inch wheels, blue front brake calipers, and 15-inch rotors. The wheels are also available in a 20-inch, all-terrain wrapped option. 
The Exclusive Features
The Land Rover V-8 is equipped with a new Dynamic program within the existing Terrain Response system that adds serious driver appeal. The system allows drivers to take advantage of the vehicle's dynamic character and handling balance of the V-8 model - not only on smooth surfaces, but on unpredictable ones. It boosts agility, playfulness, and responsiveness - all while allowing more control than ever.
"Our engineering focus has been to optimize powertrain calibration for the Defender to deliver both responsive on-road performance and fine control off-road-all without compromising the Defender vehicle's all-terrain capability and wading ability." said Iain Gray, Senior Manager, Powertrain Advanced Engineering, Jaguar Land Rover. 
Mission accomplished. If you're as excited about the 2022 Defender V8 as we are, give us a call at 888-708-5281. We'd be more than happy to talk about the features, along with its estimated arrival date at Land Rover Chicago.